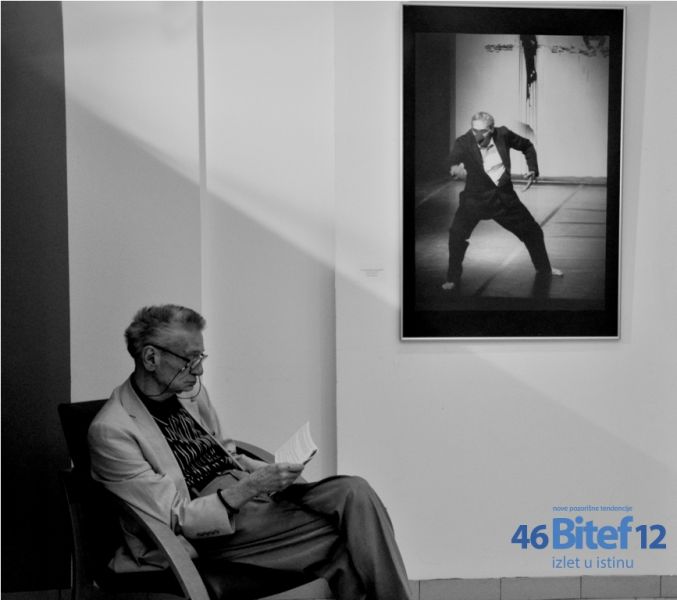 Jovan Ćirilov was one of the greatest figures in the Serbian, Yugoslav and European culture, co-founder, artistic director and selector of BITEF (Belgrade International Theatre Festival), for many years the chief executive of the Yugoslav Drama Theatre, Atelje 212 dramaturgist (until 1985), prominent theatre researcher, writer, social and theatre chronicler, columnist, translator, polyglot, lexicographer, caricaturist: an international 21st century author. He was awarded many times for his creative opus and contribution to theatre and culture,
He was born in Kikinda on 30 August 1931, In 1955 he graduated from the Faculty of Philosophy in Belgrade and began to work at the Yugoslav Drama Theatre (JDP), first as an assistant director and then as its dramaturgist and artistic director. From 1985 until 1988 he was the chief executive of that theatre. He raised it to a high world level cultivating domestic drama and staging major international works with the emphasis on those not staged in Belgrade before him.
In the spring of 1967 Mira Trailović, the founder and chief executive of Atelje 212, well-known Belgrade theatre, invited him to be the theatre's dramaturgist and he held that post until 1985. During that period of time their theatre was the first in Yugoslavia to stage pieces by Gombrowicz, Havel, Kohout, Miller, Vampilov, Canetti, Witkiewicz, Aksionov, Kroetz, Sladek etc.
From 2001 until 2007 he chaired the National Commission of Yugoslavia, subsequently Serbia at UNESCO.
In 1967, Mira Trailović and Jovan Ćirilov founded the oldest and most important international theatre festival in this part of Europe. It was the Belgrade International Theatre Festival (BITEF) the subtitle of which, New Theatre Tendencies, marked the festival for the next fifty years - not as a review of so-called avant garde theatre tendencies but as a selection of productions which prevalently showed the world classics in a novel way or introduced new dramaturgy but was not necessarily experimental and strikingly modernist in form.
Jovan Ćirilov was an outstanding connoisseur of the world theatre. He guided BITEF as its selector and artistic director until the end of his life. The festival introduced to Belgrade and the world theatre stage the greatest companies and directors, renowned names of the avant garde and new world theatre such as Jerzy Grotowski, David Esrig, Otomar Krejča, Victor Garcia, Georgi Tovstonogov, Peter Gill, Joseph Chaikin, Richard Schechner, Luca Ronconi, Peter Schumann, William Gaskill, Hans Lietzau, Ingmar Bergman, Meredith Monk, Frederic Flamand, Suzana Janković, Théâtre du Soleil, Ariane Mnouchkine, Living Theatre, Shuji Terayama, Eugenio Barba, Anatoly Efros, Roger Planchon, Andrei Serban, Peter Stein, Yuri Lyubimov, Peter Brook, Lindsay Kemp, Pina Bausch, Ellen Stewart, Jean-Louis Barrault, Alwin Nikolais, Joseph Schein, Jir`i Menzel, Eugène Ionesco, Claus Peymann, Sonja Vukićević, Pip Simmons Theatre, Pupilija Ferkeverk, Open Theatre, Bread and Puppet, The Ridiculous Theatrical Company, Merce Cunningham, Angel Fasio, Paolo Magelli, Núria Espert, Johann Kresnik, Roberto Ciulli, Jan Fabre, Andrzej Wajda, Theodoros Terzopoulos, Joan Grau, Gorčin Stojanović, Silviu Purcarete, Frédéric Flamand, Jerzy Jarocki, Alexander Lang, Andraš Urban, Anton Adasinsky, Wim Vandekeybus, Roman Viktyuk, Ljubiša Ristić, Haris Pašović, Dejan Mijač, Nenad Prokić, Slobodan Unkovski, La fura dels baus, Sasha Waltz, Memè Perlini, Josef Nadj, Heiner Goebbels, Alvis Hermanis, Christoph Marthaler, Krystian Lupa, Jagoš Marković, Vito Taufer, Piter Zadek, Aleksandar Popovski, Valeriy Fokin, Frank Castorf, Simon Mcburney, Svetlana Vragova, Giorgio Strehler, Ivan Popovski, Nikita Milivojević, Dušan Jovanović, Henrietta Janowska, Kama Ginkas, Metzger and Zimmermann, Andrey Moguchiy, Johann Kresnik, Sidi Larbi Cherkaoui, Steven Berkoff, Thomas Ostermeier, Pyotr Fomenko, Oskaras Koršunovas, Krzysztof Warlikowski, Johan Simons, Diego de Brea, Rezo Gabriadze, Lloyd Newson, Eimuntas Nekrošius, Maurice Béjart, Árpád Schilling, Kirsten Dehlholm, Romeo Castellucci, Jürgen Gosch, Boris Bakal, Janez Janša, Michail Marmarinos, Tomi Janežić, Angelin Preljocaj, Phil Soltanoff, Margaret Jenkins, René Pollesch, Javier de Frutos, Branko Potočan, Borut Šeparević, Ana Teresa de Keersmaeker, Marie Chouinard, Stefan Kaegi, Constanza Macras, Alain Platel, Lotte van den Berg, Bojan Đorđev, Rodrigo García, Ivo van Hove, Emma Dante, Miloš Lolić, Boris Liješević, Oliver Frljić and many others. Many of them began to acquire world fame in Belgrade..
BITEF is the first international festival awarded the Special Prize of the European Theatre Union (Ćirilov received the award on 9 April 2000 at a ceremony in Taormina, Sicily) for extending beyond the boundaries of a festival, it became a place of intensive and profound exchange which, breaking through all the barriers even at a time of strongest divisions, brought face to face the theatre experience of the East and the West within the utopian vision of united Europe and never-ending search for peace.
Jovan Ćirilov was a member of the jury for the Great European Theatre Award, member of the directorate of Mittelfest in Cividale, Italy, and towards the end of the 1980s for two years the selector of the Mondial Festival in Nancy, France. He won the Sterija Award twice: for reviews and life achievement, the October Award of the City of Belgrade for his lifetime achievement and Joakim Vujić Award for the contribution to the Serbian theatre. He chaired the National Commission of Yugoslavia and then Serbia at UNESCO from 2001 until 2007 and was then the chairman of the Board for Culture of the Commission. In 1992 France awarded him the title of Chevalier of the Order of Arts and Letters.
Jovan Ćirilov was a member of the Serbia PEN Centre in Belgrade. He wrote for Student, Politika (as of 1956), Blic (as of 1999), NIN, Ludus, Delo and many other periodicals and papers. He initiated his columns in newspapers (Pozorištarije, Reč nedelje, Moji savremenici, Dnevnici ). He engaged in lexicography and authored several dictionaries. Ćirilov published a novel Neko vreme (A Time) in Salzburg (1980), books Putovanje po gramatici (Voyage through grammar), poetry (Nezavisna izdanja Slobodan Mašić, Belgrade, 1972), Putovanje po pozorištu (Travelling through Theatre) (Univerzitetska Riječ, Nikšić, 1988), Uzaludna putovanja (Futile Travels), poems (Kikinda Književna zajednica, 1989), Dramski pisci, moji savremenici (Playwrights, My Contemporaries)(Sterijino pozorje, Novi Sad, 1989), Pozorištarije (Theatre Affairs)(Zajednica profesionalnih pozorišta BiH, 1991), Reč nedelje (The Word of the Week), 1986-1995 (Grad teatar Budva, Oktoih, 1996), Pozorištarije (Theatre Affairs) (Grad teatar Budva/Oktoih, Podgorica, 1998), Najkraće drame na svetu (The World's Shortest Plays)(Kov, Vršac, 1999), Dnevnici (Diaries)(Grad teatar Budva, Oktoih, Podgorica, 1999), Pre i posle gneva, zbornik savremene britanske drame (Before and after the Anger, A Collection of Modern British Drama)(Zepter Book World, Belgrade, 2001), Pre i posle "Kose", zbornik savremene američke drame (Before and After Hair, A Collection of Modern American Drama)(Zepter Book World, Belgrade, 2002), Reč nedelje (The Word of the Week), 1995-2005 (Prosveta, Belgrade, 2006), Svi moji savremenici in two volumes (All My Contemporaries)(Laguna, Belgrade), and several scripts for films shown in Venice, Moscow and Pula. In his last book (Svi moji savremenici - All My Contemporaries) he collected events, moments, stories and anecdotes about renowned personalities such as Ivo Andrić, Tito, Gérard Philipe, Yuri Lyubimov, Jerzy Grotowski, Robert Wilson, Peter Handke, Núria Espert, Dušan Makavejev, Jean-Paul Sartre, George Soros, Nevenka Urbanova and many others.
He wrote dictionaries: Rečnik novih reči (The Dictionary of New Words)(Narodna knjiga, Belgrade, 1982), Novi rečnik novih reči (A New Dictionary of New Words) (Bata, Beograd, 1991), Srpsko-hrvatski rečnik varijanata/inačica (Serbo-Croatian Dictionary of Variants) (Stilos, 1989; Bata Orbis, 1994).
Ćirilov translated many plays subsequnetly produced on stage.
Ćirilov also tried his hand as a theatre director. In 2004 he directed for the first time the drama entitled Nedozvani (The Unevoked) by poet Momčilo Nastasijević which premiered at the Centre for Cultural Decontamination during BELEF, Belgrade Summer Festival. On the basis of Miroslav Krleža's text of 1926 in 2112 he directed Izlet u Rusiju, (A Trip to Russia) which had its premiere at the Centre for Cultural Decontamination (CZKD).
Ćirilov drew caricatures. During the 43rd BITEF in 2009 on the occasion of the 20th anniversary of the demise of Mira Trailović with whom he started BITEF, he presented his exhibition Moji savremenici u karikaturi (My Contemporaries in Caricature). There was no Mira's caricature. Ćirilov said that he never drew those the closest to him.
To future generations he bequathed a treasure trove of books, documents and his indelible mark in our theatre and culture.
Defying his severe illness Jovan Ćirilov proceeded to work as actively as ever, including the 48th BITEF.
He is buried in the Alley of Distinguished Citizens at the New Cemetery in Belgrade.